UNIFORMS
Please click this link for our new online shopify store
Our Uniform is a dark purple leotard and matching skirt for all students.
Uniforms are made to order. For the first few weeks whilst settling into a class please make sure your child is wearing something they can dance in, leotards are preferable.
Below is a price list for the leotard and skirts. Please ask the teacher about shoes as they can advise on the best place to get these. Please be aware orders can take a few weeks.
For buying tap shoes please contact marie@mariesdanceboutique.com or follow this link to go directly to her website, there will be a link to the correct shoes we use at WADPA and Marie will happily help anyone with any queries.
Leotards
$32.50 (Age 4-6)
$37.00 (Age 8-10)
$42.00 (Age 12-14)
$45.00 (Adults)
X over skirts
$18.00
Junior circular skirts (pre-school, prep & primary classes)
$22.00
Lyrical skirts
$65.00
Please note: A postage charge will be incurred
For the alternative uniform, please speak to Holly.
We also have t-shirts, hoodies and bags all with the WADPA logo available. Again, speak to Holly if you are interested in purchasing any of these items. Prices are listed below.
See Holly to place an order for these. Alternative WADPA items can be worn to any class except ballet. Leotards are required for ballet.
Class requirements:
Ballet 
Pre School – Purple leotard, purple circular skirt
Beginner, Prep & Primary – Purple leotard, purple circular skirt, ballet socks or stockings & Ballet shoes
Grade 1-Vocational level Ballet – Purple leotard, purple wrap skirt, ballet stockings & Ballet shoes
Hair – In a bun
NEW Senior classical uniform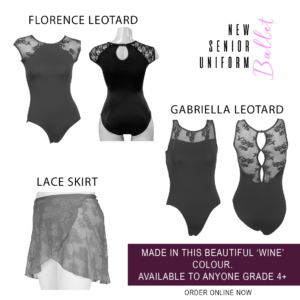 Order now by clicking on this link
Tap
Beginner, Prep & Primary – Purple leotard, black shorts, ankle socks and black tap shoes
Grade 1-Vocational level Tap – Purple leotard, black shorts, stockings or socks and black tap shoes
Hair – Tied back in a ponytail or bun 
Jazz 
Beginner, Prep & Primary – Purple leotard, black shorts, ankle socks and tan jazz shoes or crop top and shorts set
Grade 1-Vocational level Tap – Purple leotard, black shorts, stockings or socks and tan jazz shoes or crop top and shorts set
Hair – Tied back in a ponytail or bun
Acrobatic
Beginner, Prep & Primary – Purple leotard, black shorts, bare feet or crop top and shorts set
Grade 1-Vocational level Tap – Purple leotard, black shorts, bare feet or crop top and shorts set
Hair – Tied back in a ponytail or bun
Lyrical
Junior – Purple leotard, lilac long lyrical skirt, foot undies or bare feet
Intermediate – Purple leotard or dance wear, foot undies or bare feet
Senior – Purple leotard or dance wear, foot undies or bare feet
Hair – Tied back in a ponytail or bun
Stage Class and/or Performance group
All levels – Any dance wear. Leotard and skirt for classical PG
Hair – ties back in a ponytail or bun
Crop tops
long tights
Shorts
Jackets
$50.00
$55.00
$50.00
$75.00
Fifi leotards with attached skirt
$65.00
Zip up hoodies
$65.00
Dance bag
$45.00 small
$55.00 large
T-shirts
$20.00
Tights
$20.00
Hair pack
$20.00
Long sleeve shirt
$45.00
Ballet shoes
$30.00
Jazz shoes
$55.00